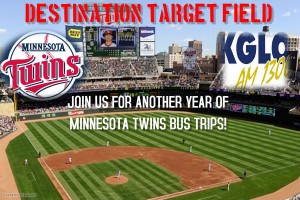 Join us for another exciting year 
with the Minnesota Twins!
Our first bus trip to Target Field is
 Thursday April 16th at 12:30 PM
when the Twins take on the Kansas City Royals!
Our seats are in the dugout box!
Get yours today at our studios!
341 South Yorktown Pike between 8 AM and 5 PM weekdays!
Tickets are 85 dollars and include a sack lunch from Papa's!
Our Minnesota Twins Bus Trips are
Presented by:
I-Wireless, Anytime Fitness In Mason City!
Hawkeye Auto Body,
P & T Sales in Clear Lake!
Lake Fireplace & Spa,
The Other Place in Clear Lake!
MBT Bank, PR Connections
The Siding & Window Guyz and
Corporate Farmer!